YuGiOH - Blazing Vortex Booster Box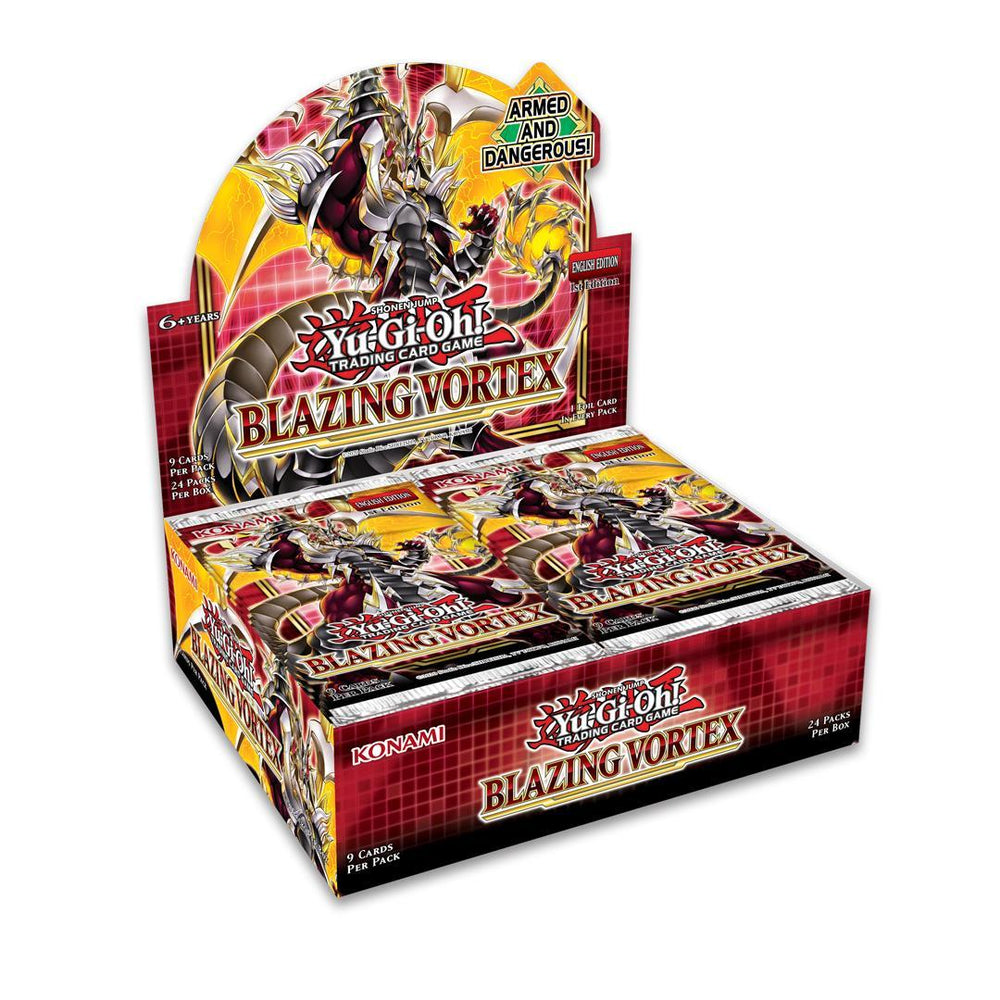 YuGiOH - Blazing Vortex Booster Box
Vendor: Loot Kingdom
Product Type : YGO Sealed
Hurry! Only
0
units left in stock!
Digital Card
Just bring email or code generated at purchase
Never Expires
Stress free, shop when you want!
Need Help?
Contact us for assistance regarding gift cards!
CONFIGURATION:
- 9 CARDS PER PACK
- 24 PACKS PER DISPLAY
- 12 DISPLAYS PER CASE
Get ready to Chazz it up in 2021 when Blazing Vortex hits the Yu-Gi-Oh! TRADING CARD GAME on February 5th!
Level up your game with 100 new cards to play and collect including a reimagining of Chazz Princeton's "Armed Dragon" cards from the Yu-Gi-Oh! GX animated series. Play them on their own or combine them with the original "Armed Dragon" cards to create a hard-hitting new strategy that aims to unleash a brand-new version of Armed Dragon LV10 and power it all the way up to 10000 ATK!
Phantom Rage introduced 17 new World Premiere cards, but Blazing Vortex ups the ante with 19 World Premiere cards! Blazing Vortex both debuts a new combat-crazed World Premiere theme and spices things up with some World Premiere cards that turn the rules of engagement on their head, including a new Continuous Trap Card that forces Duelists to take turns playing their monster effects.
In addition, you can find…
• Cards that power up some of the themes introduced in Secret Slayers, Rise of the Duelist, Phantom Rage, and Genesis Impact.
• New cards for themes introduced in 2010, 2012, 2016, 2017, and 2019.
• The latest version of an iconic Spell Card that everyone knows.
• A World Premiere Card that reinvents another classic Spell Card.
• And more!
The Blazing Vortex booster set contains 100 new cards:
50 Commons
26 Super Rares
14 Ultra Rares
10 Secret Rares
We will refund products that are still sealed in all original packaging and returned within 14days of purchase. We will NOT accept returns on opened TCG, Games, Supplies, under any circumstances.
All shipping for returns is at the customer's expense.
We do not accept returns from international countries.
top
Added To Cart :
Add To Cart Failed :
prouduct successfully added to wishlist !
Loot Grading Guide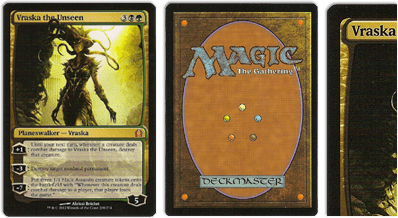 '
Near Mint (NM)'
Near Mint condition cards show minimal or no wear from play or handling and will have an unmarked surface, crisp corners, and otherwise pristine edges outside of minimal handling. Near Mint condition cards appear 'fresh out of the pack,' with edges and surfaces virtually free from all flaws. '
'
'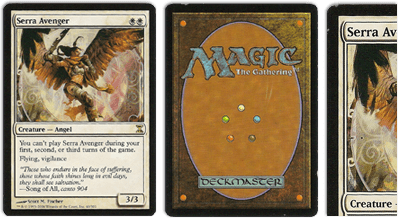 '
Lightly Played (LP)'
Lightly Played condition cards can have slight border or corner wear, or possibly minor scratches. No major defects are present, and there are less than 4 total flaws on the card. Lightly Played condition foils may have slight fading or indications of wear on the card face. '
'
'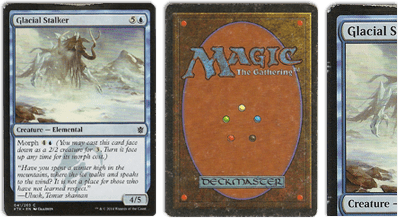 '
Moderately Played (MP)'
Moderately Played condition cards have moderate wear, or flaws apparent to the naked eye. Moderately Played condition cards can show moderate border wear, mild corner wear, water damage, scratches , creases or fading, light dirt buildup, or any combination of these defects. '
'
'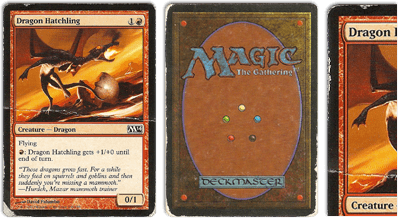 '
Heavily Played (HP)'
Heavily Played condition cards exhibit signs of heavy wear. Heavily Played condition cards may include cards that have significant creasing, folding, severe water damage, heavy whitening, heavy border wear, and /or tearing. '
'
'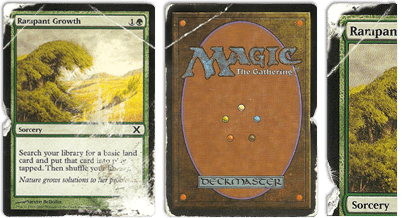 '
Damaged (D)'
Damaged condition cards show obvious tears, bends, or creases that could make the card illegal for tournament play, even when sleeved. Damaged condition cards have massive border wear, possible writing or major inking (ex. white-bordered cards with black-markered front borders), massive corner wear, prevalent scratching, folds, creases or tears. '
'
'
'